"You're about to embark upon a fantastic journey. It's one of boundless time and space and it's compressed with the pages of the book you now hold. I only wish I could experience again, for the first time, the disarray — visual poetry as a masterwork."


from foreword by Richard Koci Hernandez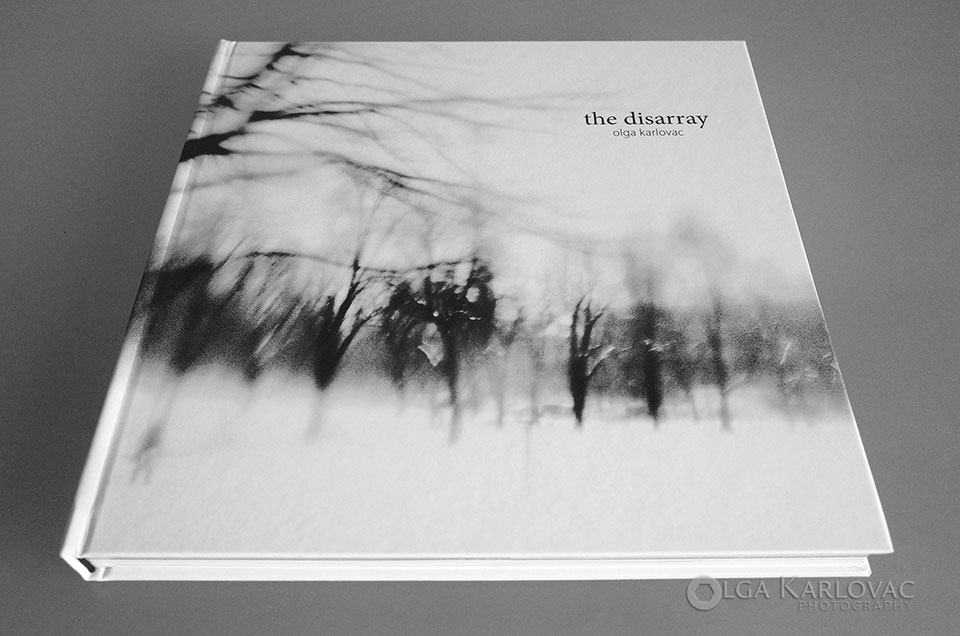 THE DISARRAY
olga karlovac
my photo book
BOOK INFO
2nd edition of 400,  self published
87 b&w photos,
156 pages,
arctic volume ivory 150g paper,
duoton print
matte paper lacquer
25x25 cm size,
hard cover,
ISBN 978-953-59409-2-0
foreword written by Richard Koci Hernandez
introduction accompanied by original music  "the disarray" written by Gary Pozner

the disarray ' has been exhibited around the world since it official launch at Bermondsey Project Space in London in 2019
OFFER 1
signed book
2nd edition of 400, self published photo book 'the disarray' available for sale directly from the author
price 50 Euros + 15 / 20 Euros trackable shipping
shipping worldwide from Croatia  using national post
payment options: pay pal or bank transfer
for orders This email address is being protected from spambots. You need JavaScript enabled to view it. ( This email address is being protected from spambots. You need JavaScript enabled to view it. ) or using the Contact Form
OFFER 2
signed book + limited edition signed print
2nd edition of 400, self published photo book 'the disarray' + limited edition  signed print (on the photo)
print paper: Hahnemuhle Photo Rag paper 308g mat paper
paper size: 24,5 cm x 24,5 cm , print size 20,5 cm x 20,5 cm
available for sale directly from the author
price available upon request
shipping worldwide from Croatia  using national post
payment options: pay pal or bank transfer
for orders This email address is being protected from spambots. You need JavaScript enabled to view it. ( This email address is being protected from spambots. You need JavaScript enabled to view it. ) or using the Contact Form
OFFER 3
personally dedicated and signed book + 3 limited edition signed prints
2nd edition of 400, self published photo book 'the disarray' + 3 limited edition signed prints
print paper: Hahnemuhle Photo Rag paper 308g mat paper
paper size: 24,5 cm x 24,5 cm , print size 20,5 cm x 20,5 cm
available for sale directly from the author,
price 200 Euros + 15 / 20 Euros trackable shipping
shipping worldwide from Croatia  using national post
payment options: pay pal or bank transfer
for orders This email address is being protected from spambots. You need JavaScript enabled to view it. ( This email address is being protected from spambots. You need JavaScript enabled to view it. ) or using the Contact Form
from the author

i never intended to finish this book. i even struggled in sporadic attempts to do so.

i had my doubts about publishing it because even now i feel it is not complete. but after all, i guess the missing parts are sometimes just like a river that swallows a few branches along its way down...before it hopefully dies into the endless sea...

as time irretrievably flew by, the last remains of snow had melted long before the first morning light...the lightning waned into the early spring horizon, just like the autumn thunder lost in the leaden sea...

...i was about to escape... what has remained from the disarray is this book...