"Olga Karlovac is a photographer who explores the darkness and the mystery of the unseeable world with a haunting and painterly eye.
Her camera is like a cosmic antenna tuned to project the impressionistic frequency of the space between reality and every other possibility under the sun.
Escape is an exploration and a celebration of everything the camera isn't supposed to be able to do, giving us a glimpse of a world we would not otherwise be able to see."
from foreword by Kurt Iswarienko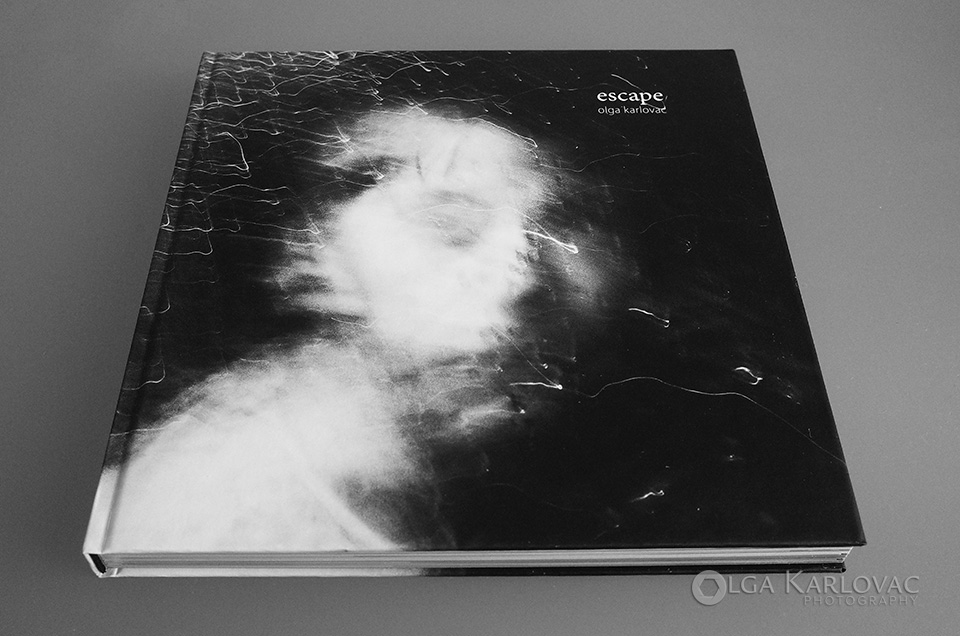 ESCAPE
olga karlovac
my photo book
BOOK INFO
2nd edition of 500,  self published
91 b&w photos,
166 pages,
arctic volume ivory 150g paper,
duoton print
matte paper lacquer
25x25 cm size,
hard cover,
ISBN 978-953-59409-3-7  
foreword written by Kurt Iswarienko
original music  "escape" written by Gary Pozner

'escape' was launched at Willesden Gallery in London in 2021 and has been widely exhibited across Europe
OFFER 1

signed book
2nd edition of 500, self published photo book 'escape', available for sale directly from the author
price 50 Euros + 15 / 20 Euros trackable shipping
shipping worldwide from Croatia  using national post
payment options: pay pal or bank transfer
for orders This email address is being protected from spambots. You need JavaScript enabled to view it. ( This email address is being protected from spambots. You need JavaScript enabled to view it. ) or using the Contact Form
OFFER 2

signed book + limited edition signed print
2nd edition of 500, self published photo book 'escape' + limited edition signed print (on the photo)
print paper: Hahnemuhle Photo Rag paper 308g mat paper
paper size: 24,5 cm x 24,5 cm , print size 20,5 cm x 20,5 cm
available for sale directly from the author
price available upon request
shipping worldwide from Croatia  using national post
payment options: pay pal or bank transfer
for orders This email address is being protected from spambots. You need JavaScript enabled to view it. ( This email address is being protected from spambots. You need JavaScript enabled to view it. ) or using the Contact Form
from the author


in the blink of an eye
in the moment between day and night,
somewhere at the edge of darkness and light
walking down an empty road below the mountain of memories
while strong winds from the north carve your marks all over my skin
i feel your breath
and i imagine...



as i began to shoot for "before winter" i could never have imagined where this path would take me.
somewhere along the way, when i started "the disarray", i decided to make a trilogy of books.
"escape" makes this journey complete.
these three books are simply a written and visual statement, a reflective, abstract and imaginative memory — a symbol.
a reminder and journal of my life and the emotion that kept me going along this path.
i made all three of them to keep the memory safe somewhere,
in the form of books, as i simply love books.