"There are times in our life that we are presented a beauty in the mundane and see it transformed into the beauty from inside the photographer. The eye, heart and mind of both the photographer and the viewer meet hand in hand, in the photos presented in front of the eye and hopefully an understanding becomes clear."


from foreword by Don Springer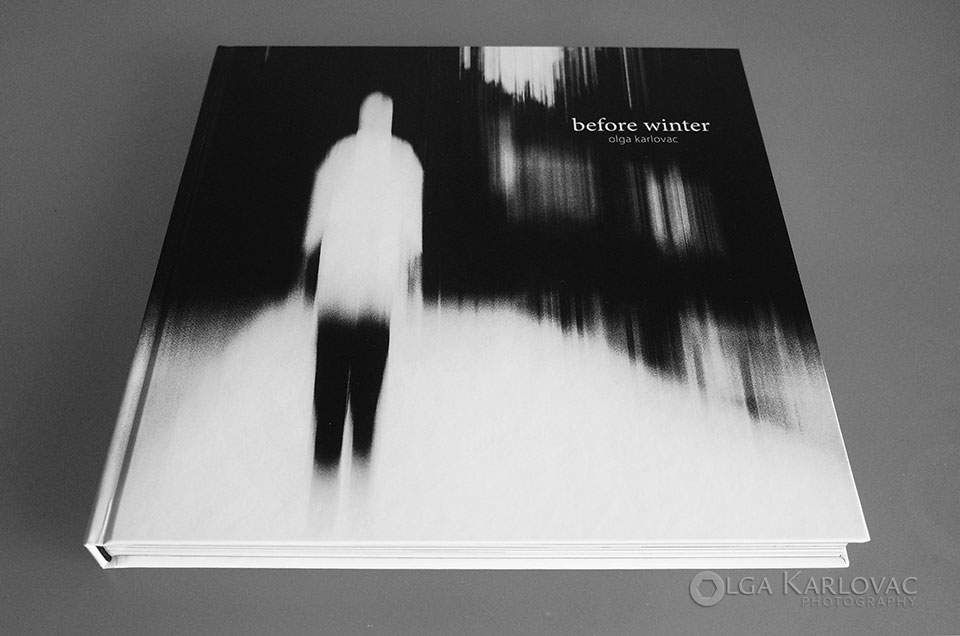 beautiful composition, named "before winter" composed by Gary Pozner, after seeing my exhibition in Willesden gallery. i get chills each time i hear it. thanks so much Gary!
BEFORE WINTER
olga karlovac
my photo book "before winter" got reviewed by William Dowell former Time magazine correspondent and author, the review has been written for The Inspired Eye magazine.
book review
before winter has been exhibited around the world, mostly in london 
BOOK INFO
2nd edition of 300
102 b&w photos,
164 pages,
arctic volume ivory 150g paper,
duoton print,
matte paper lacquer
25x25 cm size hardcover  
hard cover,
ISBN 978-953-59409-1-3
foreword written by Don Springer

'before winter' was launched to critical acclaim in London in 2018
OFFER 1
signed book
2nd edition of 300, self published photo book 'before winter' available for sale directly from the author,
price 50 Euros + 15 / 20 Euros trackable shipping
shipping worldwide from Croatia  using national post
payment options: pay pal or bank transfer
for orders This email address is being protected from spambots. You need JavaScript enabled to view it. ( This email address is being protected from spambots. You need JavaScript enabled to view it. ) or using the Contact Form
OFFER 2
signed book + limited edition signed print
2nd edition of 300, self published photo book 'before winter' + limited edition signed print (on the photo)
print paper: Hahnemuhle Photo Rag paper 308g mat paper
paper size: 24,5 cm x 24,5 cm , print size 20,5 cm x 20,5 cm
available for sale directly from the author
price available upon request
shipping worldwide from Croatia  using national post
payment options: pay pal or bank transfer
for orders This email address is being protected from spambots. You need JavaScript enabled to view it. ( This email address is being protected from spambots. You need JavaScript enabled to view it. ) or using the Contact Form
OFFER 3
personally dedicated and signed book + 3 limited edition signed prints
2nd edition of 300, self published photo book 'before winter' + 3 limited edition signed prints
print paper: Hahnemuhle Photo Rag paper 308g mat paper
paper size: 24,5 cm x 24,5 cm , print size 20,5 cm x 20,5 cm
available for sale directly from the author
price 200 Euros + 15 / 20 Euros trackable shipping
shipping worldwide from Croatia  using national post
payment options: pay pal or bank transfer
for orders This email address is being protected from spambots. You need JavaScript enabled to view it. ( This email address is being protected from spambots. You need JavaScript enabled to view it. ) or using the Contact Form
from the author

...it was late october, the time before you put on your hats and gloves, the time when you look at the remaining leaves fluttering in the branches above your head while you walk down your neighborhood alley... and you start wondering when the mist will swallow the sun rays, when the rain will last forever, when the darkness will take over the sunlight...

...to be honest, I have never been much of a sun lover, and don't even get me started on the heat... so I am walking down the road waiting for my time of year to come – the time just before winter... I was about to tell a story made of photographs, that began in a nightmare during a cold and rainy night, which somehow turned into a melancholic fantasy of memories, and ended with "coming home"... whatever that may be...

...I started shooting for this book later that year, it was early december...