TRILOGY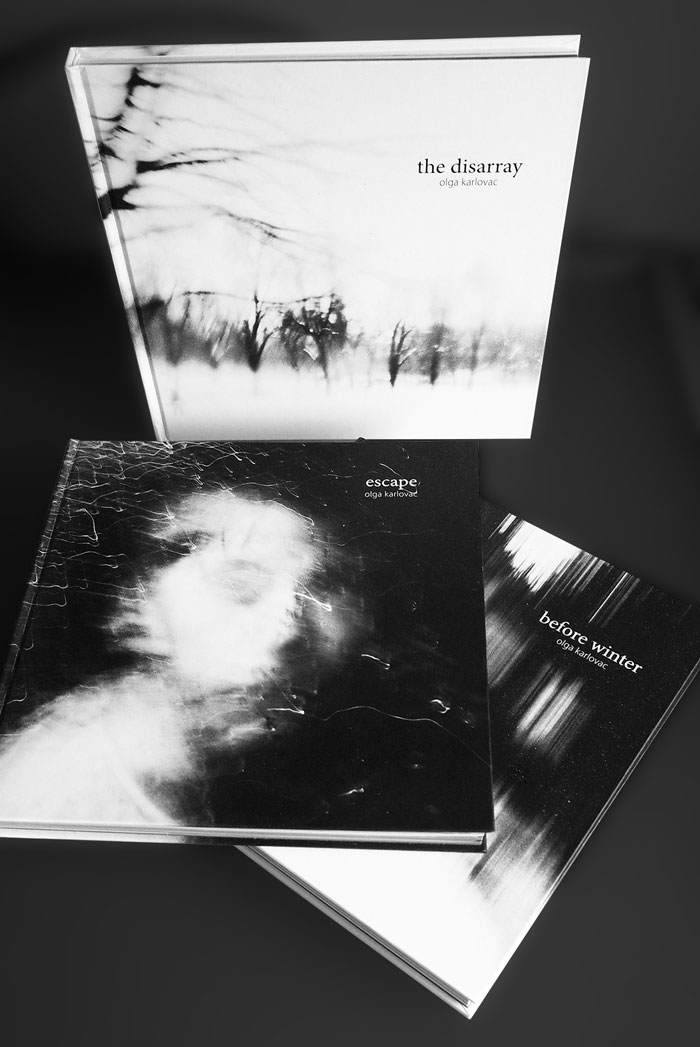 BEFORE WINTER
BOOK INFO
2nd edition of 300
102 b&w photos,
164 pages,
arctic volume ivory 150g paper,
duoton print,
matte paper lacquer
25x25 cm size hardcover  
hard cover,
ISBN 978-953-59409-1-3
foreword written by Don Springer
THE DISARRAY
BOOK INFO
2nd edition of 400,  self published
87 b&w photos,
156 pages,
arctic volume ivory 150g paper,
duoton print
matte paper lacquer
25x25 cm size,
hard cover,
ISBN 978-953-59409-2-0
foreword written by Richard Koci Hernandez
introduction accompanied by original music  "the disarray" written by Gary Pozner
ESCAPE
BOOK INFO
2nd edition of 500,  self published
91 b&w photos,
166 pages,
arctic volume ivory 150g paper,
duoton print
matte paper lacquer
25x25 cm size,
hard cover,
ISBN 978-953-59409-3-7  
foreword written by Kurt Iswarienko
original music  "escape" written by Gary Pozner


OFFER 1
before winter 2nd edition
the disarray 2nd edition
escape 2nd edition
total price 135 Euros + trackable shipping ( 20/40 euros depending on location )

personally dedicated and signed books
shipping worldwide from Croatia  using national post
payment options: pay pal or bank transfer
for orders This email address is being protected from spambots. You need JavaScript enabled to view it. ( This email address is being protected from spambots. You need JavaScript enabled to view it. ) or using the Contact Form
REVIEWS
Foreword to "the disarray"
You're about to embark upon a fantastic journey. It's one of boundless time and space and it's compressed with the pages of the book you now hold. I only wish I could experience again, for the first time, the disarray — visual poetry as a masterwork
Review of "escape"
Let me be clear at the beginning. I love Olga Karlovac's Escape. The images are dark, blurry, out of focus, and that's precisely the point. These are impressionist images and every one of them is an invitation to linger and dream. Turn to any page. Look at the image. Holding this book is dream-time, association-time, wonderful-time.
Review of "before winter"
As a result, rather than attempting to faithfully record the material reality in front of the camera, Karlovac's images focus on capturing the emotional reactions that a specific scene creates in her inner emotional life. What we have is a photographic image of the effect that the scene has had on the interior of Karlovac's personality. In effect, we are witnessing a fusion of memories, sensations and experiences from the perspective of a specific moment in time